06/07/2015
Auction Napa Valley Raises $15.8 Million for Community Health and Children's Education
St. Helena, CA - Four beautiful days in Napa Valley inspired a bountiful $15.8 million in proceeds from Auction Napa Valley, the Napa Valley Vintners' (NVV) annual charity fundraiser. Auction Napa Valley funding enriches the lives of more than 90,000 clients annually in Napa County in the areas of community health and children's education.

"Good friends, welcoming hospitality, renowned Napa Valley wines, culinary expressions of our gardens and the humbling generosity of our bidders, vintners and volunteers came together over these last four days to create an extraordinary Auction experience," expressed David Pearson, 2015 honorary Auction Napa Valley chair and CEO of Opus One. "While $15.8 million is a number that reflects the abundance of giving that we will extend to families in Napa Valley, I am reminded of a singular example of how far these funds go in creating a strong, cohesive community. Just a day after the South Napa Earthquake last August, an immediate cash infusion of just a few thousand dollars to the American Canyon Family Resource Center provided essential food and emergency supplies to a multitude of families in dire need. Imagine what we can continue to provide for our community with this year's Auction Napa Valley's proceeds."

In the past year alone, the NVV has invested $23 million in the Napa Valley community. Since its inception in 1981, the NVV has given more than $145 million in Auction Napa Valley proceeds to Napa County nonprofits.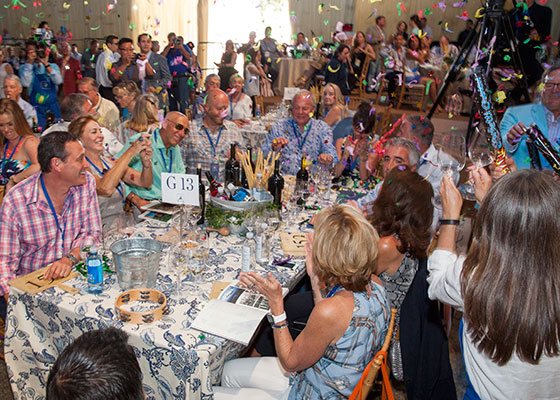 This year's Auction Napa Valley began with vintner-hosted Welcome Parties on Thursday evening and continued on Friday with the Napa Valley Barrel Auction at HALL St. Helena. Some 2,000 guests sampled 120 coveted Napa Valley wines, nearly 90% from the much-anticipated 2013 vintage, directly from the barrel, while having a chance to spend time with the winemakers and vintners themselves. The Napa Valley Barrel Auction raised a record $1.9 million through the sale of these Napa Valley wine futures. Friday's guests also strolled the art-filled grounds at HALL, while enjoying sips of 100 current release Napa Valley wines and tasty bites from more than 40 of Napa Valley's celebrated chefs and food purveyors.

One of Friday's most crowd-pleasing moments was the first subtle, then enthralling flash mob performance of "Ode to Joy" from Beethoven's immortal Ninth Symphony, a gift from the owners of HALL St. Helena, Kathryn and Craig Hall, and produced by Festival del Sole. More than 80 instrumentalists and vocalists from throughout the Bay area were conducted by Ming Luke poised atop an uprighted wine barrel.

Saturday's Live Auction Celebration at Meadowood Napa Valley saw 850 guests enjoying a wine country marketplace lunch, composed by Chef Michael Chiarello, before gathering in the spacious, clear-span white tent for a rousing auction of 51 extraordinary lots of Napa Valley wines and special experiences.

The Chair's Lot, donated by Honorary Auction Chairs, the Opus One Team, included a 35-year vertical wine collection of Opus One magnums and a two-week tour and visits with celebrated winemaking families in Napa Valley and throughout Europe. The Chair's lot first doubled and then tripled selling to three different bidders and raising $2.4 million, becoming the charity wine event's top grossing lot of all time.

In a surprise appearance, singer-songwriter John Legend performed his hit "All of Me" immediately prior to the sale of Live Auction Lot 31, a collaboration between Legend and Raymond Vineyards. The lot, which includes six etched bottles of Napa Valley wine and a dinner party for 30 graced by a private performance by Legend, sold for $850,000.

As a prelude to the last lot of the day, Fund-A-Need, where bidders give differing amounts of money purely to benefit the needs of children in Napa County, the crowd quieted to watch five-year old Mia dance touchingly on stage with her father. Mia, who lives with her family in Napa County, was helped in part by Auction Napa Valley funding to receive treatment for spina bifida when she was just a toddler.

As the Live Auction ended and guests strolled to a twilight dinner by renowned international Chef Pierre Gagnaire, Auction Napa Valley's online E-Auction, which had opened on May 31, came to a close, netting a new record of $612,500.

The Next Auction Napa Valley takes place June 2-5, 2016. Tickets go on sale in late January 2016.

Top Ten Live Auction Lots:
Opus One Chair's Lot
Napa Valley Vintners: Fund-A-Need
Raymond Vineyards
Alejandro Bulgheroni Estate
Vine Trail
Screaming Eagle
Chateau Montelena, Joseph Phelps Vineyards and Quintessa
Staglin Family Vineyard
Dana Estates
Colgin Cellars
Hestan Vineyards

Top Ten Barrel Auction Lots:
Atelier Melka
Realm Cellars
Mayacamas Vineyards
Shafer Vineyards
The Mascot
Continuum Estate
Arkenstone Vineyards
Spottswoode Estate Vineyard & Winery
Larkmead Vineyards
Cardinale

Top Ten E-Auction Lots:
Scarecrow Wine
Grgich Hills Estate
Kapcsandy Family Winery
Beaulieu Vineyard, Sterling Vineyards, Provenance Vineyards, Hewitt Vineyard and Acacia
Sherwin Family Vineyards
Crocker & Starr Wines, Outpost Wines
Clif Family Winery
Gamble Family Vineyards, Gemstone, Saint Helena Winery, Revana Family Vineyard
Parry Cellars
Dalla Valle Vineyards

About Auction Napa Valley Auction Napa Valley is the NVV's annual community fundraiser that for nearly 35 years has utilized the worldwide reputation of Napa Valley wines and the scenic beauty of the region to raise funds to enhance the health and wellbeing of the Napa Valley community. To date, the NVV has invested more than $145 million from Auction Napa Valley proceeds in Napa County nonprofit organizations. Learn more at auctionnapavalley.org

About the Napa Valley Vintners The Napa Valley Vintners nonprofit trade association has been cultivating excellence since 1944 by inspiring its more than 500 members to consistently produce wines of the highest quality, to provide environmental leadership and to care for the extraordinary place they call home. Learn more at napavintners.com.
To view and download Auction Napa Valley 2015 photos
To see more "Stories of Impact" such as Mia's of families benefitting from Auction Napa Valley proceeds