06/05/2016
Sizzling Generosity Results in $14.3 Million Raised During Auction Napa Valley Weekend
St. Helena, CA - The Napa Valley Vintners (NVV) trade association announced that this year's Auction Napa Valley has raised $14.3 million for children's education and community health nonprofits during a weekend of feverish bidding and Latin-infused fun at the annual celebration of the best of America's leading wine region.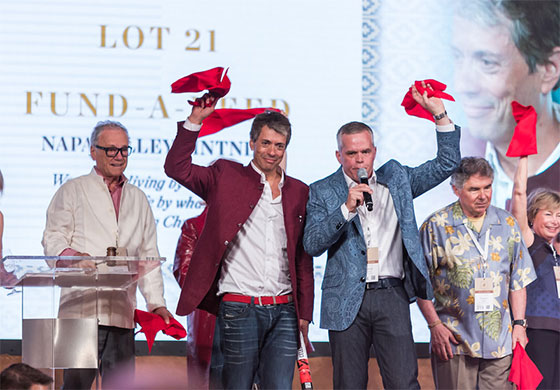 Over the course of four days, guests experienced vintner-hosted dinners and parties, the crowd-pleasing Napa Valley Barrel Auction at the iconic Robert Mondavi Winery, spellbinding live-fire cooking by South America's renowned Chef Francis Mallmann, the confetti-infused Live Auction Celebration and dancing to a 30-piece Cuban band.
"Thrilled doesn't begin to describe how pleased we are with the results of this weekend's Auction Napa Valley," noted Emma Swain, chair of the NVV's board of directors and CEO of St. Supéry Estate Vineyards & Winery. "We are immensely grateful to our vintners, guests and volunteers for their amazing outpouring of generosity that will directly benefit so many of our neighbors in need."
To date, the NVV has given more than $150 million in Auction proceeds to Napa County nonprofits serving more than 100,000 clients annually.
Vintner Generosity Sparks Lively Bidding
Inside the white air-cooled main tent during Saturday's Live Auction, brisk bidding on remarkable Napa Valley wines and unique experiences was further enhanced when vintner members of the NVV doubled and tripled their lots, offered matching cash donations and raised their own paddles during the Fund-a-Need lot. Barbara Banke of Jackson Family Wines was the top Fund-a-Need donor, contributing $500,000.
Cool Time on a Hot Day
Friday's hot temperatures did nothing to dampen the festive conviviality at the Napa Valley Barrel Auction, hosted at Robert Mondavi Winery, which is celebrating its 50th anniversary this year. Guests refreshed themselves in the cool cellar while sampling and bidding on limited-offering Napa Valley wines from the highly touted 2013, 2014 and 2015 vintages. Outside, misters and fans allowed sun-hatted attendees to enjoy more than 100 current release wines while nibbling on bites from more than 40 of Napa Valley's most talented chefs.
Fire on the Fairway
On Saturday, guests arrived at the manicured fairway at Meadowood Napa Valley to the captivating spectacle of live-fire cooking by renowned South American Chef Francis Mallmann. Racks of rib eye and whole chickens hung over flames and embers like Calder mobiles, while root vegetables cooked underground in fire pits lined with hot rocks and grapevine leaves.
"We showed our guests how much fun it is to be part of Auction Napa Valley," noted Agustin F. Huneeus, honorary chair of this year's event, 20 years after his father held the same mantle as chair of the 1996 Auction. "From the amazing asado prepared by Chef Francis Mallmann and served with delicious Napa Valley wines, to the late night dancing to Los Van Van, a 30-piece Cuban band, a great time was had by all in support of great causes in our community."
The next Auction Napa Valley is June 1-4, 2017. The Coppola family of Inglenook will serve as honorary chairs of the event. Tickets go on sale at the beginning of February 2017.
Top Live Auction Lots
'Fund-a-Need' which brought in $2.1 million from 100 paddle holders
'Into Africa, Incomparably' donated by Staglin Family Vineyards, which sold for $700,000 and was expanded to include an additional couple, for a fundraising total of $1.05 million
'True Warriors of Wine' donated by Amuse Bouche and Tusk Estates, which sold for $520,000 and was matched for a fundraising total of $1.04 million
'The Quintessential Vintner Experience' donated by Quintessa, which sold for $170,000, was doubled and then matched for a fundraising total of $680,000
'A Night Full of Stars' a buy-a-spot lot donated by Opus One, which raised $660,000
'50 Years, 50 Guests, 50 Bottles' donated by Robert Mondavi Winery, which sold for $520,000
'Etched Into the Hillside' donated by Harlan Estate, which sold for $500,000
'Luminosity' donated by Scarecrow Wine, which sold for $440,000
'The Grand Heist' donated by Blackbird Vineyards and Bvlgari, which sold for $180,000 and was doubled for a fundraising total of $360,000
'Rooms with a View' donated by Antica Napa Valley – Antinori Family Wine Estate, which sold for $320,000
Top Barrel Lots
Melka Wines, $62,100
Shafer Vineyards, $60,050
Vice Versa, $54,800
The Mascot, $47,750
Cardinale, $42,050
Continuum Estate, $37,450
R. Stephens Estate, $37,250
Paul Hobbs, $36,700
Chappellet Vineyard, $36,400
Arkenstone Vineyards, $35,800
Top E-Auction Lots
Grgich Hills Estate, $17,550
Sherwin Family Vineyards, $11,550
HALL Wines, $10,000
Cliff Lede Vineyards, $8,050
Napa Valley Vintners and Riedel , $8,050
St. Supery Estate Vineyards & Winery, $7,900
Kapcsandy Family Winery, $7,600
Beringer Vineyards, $7,050
Clif Family Winery, $6,050
Levy & McClellan, $6,050
Top Big Board Lots
Lail Vineyards and Vineyard 29, $37,800
Darioush, $27,000
Ovid Napa Valley, $20,100
Napa Valley Vintners, $13,100
Aloft Wine, Casa Piena, Hestan Vineyards, Jones Family Vineyards, Outpost Wines, Pulido Walker, QTR, Revana Family Vineyard, Saunter Wines, Stone the Crows, Wallis Family Estate, $12,000
View photos from the weekend.
View social media highlights, including celebrity sightings.
Learn how Auction Napa Valley changes lives: 'Stories of Impact.'
About Auction Napa Valley
Auction Napa Valley is the NVV's annual community fundraiser that for more than 35 years has utilized the worldwide reputation of Napa Valley wines and the scenic beauty of the region to raise funds to enhance the health and wellbeing of the Napa Valley community. To date, the NVV has invested more than $150 million from Auction Napa Valley proceeds in Napa County nonprofit organizations. Learn more at auctionnapavalley.org
About the Napa Valley Vintners
The Napa Valley Vintners nonprofit trade association has been cultivating excellence since 1944 by inspiring its more than 525 members to consistently produce wines of the highest quality, to provide environmental leadership and to care for the extraordinary place they call home. Learn more at napavintners.com.